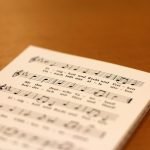 Our Anthem
Hail Blessed Tansi Seminary
True home of communion and love
Where formation fit for our age
Is offered and taken with joy.
Trusting in God's love for us
And aided by Christ, the High Priest
We look to the Holy Spirit
To be modeled into ideal priests.
Hail Blessed Tansi Iwene
Whose name our Seminary bears
Your life and teaching we uphold
To live entirely for God.
O Virgin Mother Mary Hail
Your help we implore as children dear
Pray for us Holy Priests to be
And win the heavenly crown with you.